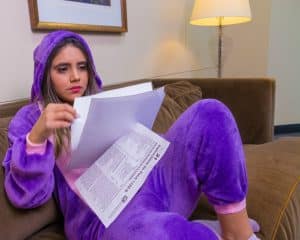 Since 2020, working from home has become all the rage. Here's how to capitalize on using your space to receive a tax break.
Working from home has likely never been as 'en vogue' as it is today. 2020 made it a necessity, 2021 made it a priority. Now, as we work our way through 2022, working remotely has arguably become the preferred way for many to work.
Before the pandemic, some companies encouraged working from home, as they understood the benefits of work-life balance and productivity.
However, with the rise in the number of people working from home and New Media Influencers bursting onto the scene, the conversation has shifted from one of simple preference to one of retention and flexibility for small businesses and Influencers alike.
Key Remote Work Statistics
Although the work-from-home trend was largely fueled by the pandemic, it appears this trend is not going away anytime soon. In fact, here are some interesting work-from-home statistics that you should be aware of:
56 percent of global companies are now either fully remote or are hybrid.
60 percent of women and 52 percent of men will quit their jobs if their employers do not offer remote work.
28 percent of remote workers are self-employed freelancers.
Advantages of Working from Home for Taxpayers
To be sure, there are numerous advantages in addition to being able to snuggle up to your pup or do a load of laundry while doing email. Here are a few:
Agility and flexibility for exempt employees. Working from home enhances flexibility and minimizes obstacles. For instance, some may start the day earlier and extend the work to late at night and even on weekends. This is great, especially for freelancers and business owners dealing with clients in different time zones.
Peace and quiet. Working from home alone allows for a serene environment with fewer distractions such as loud noises or office politics that frequently occur in an office.
Financial benefits. Working from home saves a lot of money on office space, materials, utilities, and other office expenses. It also saves on gas that would otherwise have to be spent if a commute was necessary.
Work/life balance. Remote workers can easily answer emails while folding laundry, take calls while walking the dog, be there to welcome their children home from the bus, etc. With remote work, gone are the rigid separations between home and the office.
Tax Benefits. Remote workers qualify for a number of deductions and tax breaks that office workers don't. We will discuss these in the next section.
What Types of Deductions are Available?
Business owners and Influencers who use their homes as offices can save some serious cash by taking the home office deduction, provided the IRS requirements are met and accurate and up-to-date records are available.
The IRS allows people who work from home to write off the associated rent, repairs, maintenance, utilities, and other related office expenses for home offices.
In fact, the home office deduction allows taxpayers to claim a share of their working costs from home. Such costs include internet charges, repairs, power bills, rent, and insurance.
The home office tax deduction is available for self-employed individuals working from home rather than renting office space. For eligibility, one must use a portion of their home regularly and exclusively for business.
Who Qualifies to Claim the Home Office Deduction?
Whether you own a home or rent, you can claim home office deductions. You can use the deduction for different residential homes, either in a single-family home, a condominium, a houseboat, or an apartment. But, you can't use it for a hotel or other temporary lodgings.  The good news is that hotel rentals are generally deductible as travel expenses assuming that such expenditures are for business related events.
The home office deduction applies to free-standing structures. However, you can also use a garage, studio, or a barn space for your home office provided the structure meets the conditions for a home office:
Exclusively and regularly used space for management and work purposes. Although the IRS does not require one to keep their specific methods to prove the home office, it is vital to keep documents verifying home office deductions.
Primary place of business. The home office must be the main place where you conduct business. For example, your home office would not qualify for the home office deduction if you rent office space outside of your home and use that as your primary place of business and you only use your home office on weekends.
It is important to note that under the Tax Cuts and Jobs Act, Home Office Deductions are generally NOT permitted for Employees.  There are exceptions to this rule but effective 2018 through to the 2025 tax year, only self-employed individuals (such as Sole Proprietors and S Corporation owners) may take this deduction.
How Can I Claim Home Office on Taxes?
Home office deductions can be claimed in two ways:
Simplified option
Regular method
The simplified option makes it quick and easy to claim the home office deduction. It's done by multiplying the office square-footage by $5. However, the maximum limit to claim is $1,500. On the other hand, the regular method applies based on the proportion of the used home office and related home expenditures such as rent, insurance, and repairs.
With the regular method of taking the home office deduction, if your home office takes up 10 percent of your home by square footage, then you would be able to deduct 10 percent of the home's yearly expenses.
The burden of claiming the deduction is taken by the taxpayer. If an audit on the home office is done, one must back up the claims to the IRS.
How to Avoid Mistakes
Watch for receipts. To deduct the actual expenses, you must have detailed records for all the purchases. Receipts include equipment purchases, electricity bills, repairs, and other utility bills.
The actual-expenses method of deductions requires you to depreciate the home's value. According to the IRS, these are the cost of a home resulting from wear and tear and deterioration. The depreciation taken is subject to capital gains taxes when the house is sold.
The fear of being audited should not make anyone miss out on the home office deductions.
Home Office Deductions as an Influencer
Influencers and other New Media business owners are usually considered to be self-employed by the IRS and thus eligible for the Home Office deduction and other useful business deductions. Influencers and New Media businesses can claim home office expenses for the room in a house used for business purposes such as writing or research.
In addition, the cost of office supplies such as stationary, desk chairs, laptops, cameras, cleaning supplies, calculators, among others, also matters in the home office deductions.
We Are Here to Help
Tax deductions for your home office can be difficult to understand. But, whether you are a content creator, self-employed, small local business, or a brand partner, do yourself a favor and bring in a professional who can help.
For more information, fill out the contact form here or call us at 866-736-2444, and we'll find a solution for your business needs.