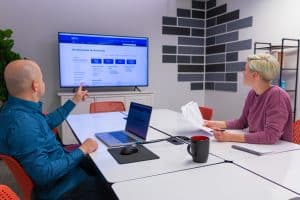 When it comes to financial services, one little mistake can be a big deal. Here's how to avoid costly mistakes while growing your business — with outside help.
Nearly every business owner has wondered when to hire internally and when to outsource externally. 
While you are the only one who can focus on keeping your business afloat in the initial stages, you are also the only one who can strategize growth. 
It's your duty to keep the operating costs low while ensuring that the initial funds or bootstrapped cash from the business is reinvested back into it.
How do you do this without losing your mind? Most small business owners still look down on going outside their company for help. However, you outsource advice to your board and investors — why not outside financial advice too?
Outsourcing to the Rescue
Most small businesses in Media started as one-person shops and expanded as they grew. It is not uncommon to see the founders of small businesses taking on multiple roles, sometimes keeping both financial and business records for their companies in a bid to keep the payroll down.
Initially, only essential staff are recruited, with most support positions outsourced or done by the business owners themselves. However, some support positions are critical to the operation and growth of a small business, and their level of expertise requires a trained and experienced professional. 
The financial well-being of any business, be it small or large, is vital, and business owners must be appraised adequately on the financial state of their business. 
While anyone with a rudimentary accounting background can do basic accounting for small businesses, detailed financial records require an experienced expert for proper analysis. This role often falls to the Chief Financial Officer (CFO), who oversees all the financial matters of the business. 
CFO's are expensive to hire and maintain permanently, particularly for small businesses. Small businesses might find themselves straining under the salary alone. The solution: a Fractional CFO.
What is a Fractional CFO?
A fractional CFO is a CFO who works part-time for multiple businesses or companies on a contractual basis. They help small businesses execute their financial obligations without the burden of having to engage their services permanently.
Pros of Hiring a Fractional CFO
Engaging the services of a fractional CFO as opposed to a full-time CFO comes with a wide array of benefits:
A small business can afford their services as they are engaged for critical business periods; hence they are paid contractually upon service delivery.

The hiring process is also more straightforward and shorter than a permanent CFO.

Business owners can also disengage their services easily if they are not adding value to their business.

The business can also enjoy improved decision-making due to reliable financial records, and the owners can confidently make informed decisions.
How to Vet a Potential Fractional CFO
CFOs deal with technical financial matters and help the business owners with expert advice on vital decisions for growth and expansion.
Finding the right CFO may mean the difference between growth and collapse for a small business.
When vetting a potential candidate for the position of a fractional CFO, as the business owner, you must:
Know the right questions to ask

– A CFO must demonstrate their financial expertise and show

an interest and expertise in your business sector.

Keep High Standards

– Don't settle for just any fractional CFO under the illusion that their services are temporary and can always be replaced quickly. A proper fractional CFO must synergize with the business to realize growth.

Check their knowledge and expertise

– Make sure you establish that the fractional CFO is familiar with the latest filing and record-keeping systems.
How a Fractional Partnership Can Save You Money and Earn You Opportunities
When considering going in the finance outsourcing direction, you must consider the fact that an ideal fractional partnership must be able to save your small business money and at the same time create opportunities.
This is achieved through:
Saving on overhead expenses such as a permanent office, insurance coverage, etc.

Accurate books that are professionally prepared rather than by a person who isn't experienced in keeping business records.

Expert and unbiased budgeting as opposed to doing it yourself

Improved cash management and faster goal realization

Proper negotiation of business goals
Your Only Financial Choice
Fractional CFOs are a breath of fresh air in a competitive business environment where sinking or remaining afloat is a matter of financial prudence 
Outsourcing critical services to experts has opened up a new frontier of opportunities that enables small businesses to compete with established businesses without the burden of a huge salary. Contracting with a Fractional CFO enables the business to focus on growth.
The financial services team at Semaphore has a wide variety of business solutions to fit your small business needs. From bookkeeping and payroll to taxes and insurance, we have you — and your business — covered.
For more information, fill out the contact form here or call us at 866-736-2444, and we'll find an immediate solution to your business needs.