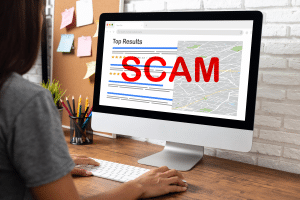 INTRODUCTION
In 1886,  The Chicago Telephone Company hired Reuben H. Donnelley, a publisher, to publish telephone directories.   He published a residential telephone directory that listed individuals alphabetically. He also published a business telephone directory which listed business by category. To make it stand out from the personal directory, the business directory was printed on yellow paper.
And The Yellow Pages was born.
Today , the expression "yellow pages" is shorthand for business directory; but today most business directories are on-line. These online business directories reach far more people than the original books Donnelley printed.
If you're a small business, especially one who relies on local clients, a listing in a business directory is a must. For many businesses, a directory listing is their sole source of marketing to attract new clients.
HOW THE SCAM WORKS
Scammers will try to get a small businesses into paying for a "premium" listing. Often in a directory that does not exist.
One day you'll get a call from a scammer claiming to be from a major business directory. including the Yellow Pages, and the name of the business will appear on the Caller ID. That is because the scammer is spoofing you. Caller ID spoofing is where a scammer changes their caller ID to reflect a different company.
The scammer will claim to be updating a business directory listing for your company. They'll ask you to verify some basic information, your business address, telephone number, email, etc. At the end of the call, the scammer repeats the information back to verify it. They will then prompt you to confirm the listing information.
Several weeks later, you receive an invoice for your "premium" listing. It could be for a single yearly payment or for a recurring monthly charge.
When you call to question the charges, and if you reach a person, you will be told you authorized the listing. They will often play back a recording of your conversation. The audio recording, often edited, will make it sound as if you agreed to pay for the listing.
HOW TO DEFEND YOURSELF
When dealing with business directory scammers, caution and research are your best weapons.
First, never give out any information, even the basics, to a stranger who calls you unsolicited.
Second, do not let the caller pressure you into an immediate decision. Reputable companies do not pressure, they give you time to think things over.  If the caller will not give you time to think about it, you may be talking to a scammer.
Do your research. Is the directory real? Are you able to find it online? What other clients do they have?
You can always check with the Better Business Bureau (bbb.org). The BBB can give you the directory's contact information, complaint history, and customer reviews.
Finally, ask questions. Reputable companies should be able to answer all your questions, confirm terms, conditions, and details, and, of course, the cost of any listing.
Remember, legitimate business directories are looking to create a lasting relationship, not just make a sale.
Learn the signs of BUSINESS DIRECTORY SCAMS and other scams that could affect your business. Knowing what to look for is the best way to avoid a scam.